In-Reach/Outreach Activities
The Small Business Program Offices for the Pantex and the Y-12 National Security Complex may conduct meetings and presentations to educate internal organizations, management, and buying staff concerning small business program policy, procedures, goals, and federal regulations that govern the program.
Outreach activities play a large part in communicating CNS's small business objectives, expectations, requirements, and accomplishments to the community at large. CNS staff, including senior management, is strongly committed to sponsoring and participating in numerous public forums, conferences and professional associations in support of small businesses.
Other involvement and participation may include hosting, sponsoring, and attending local, regional, and national conferences and forums.
CNS hosts virtual business forum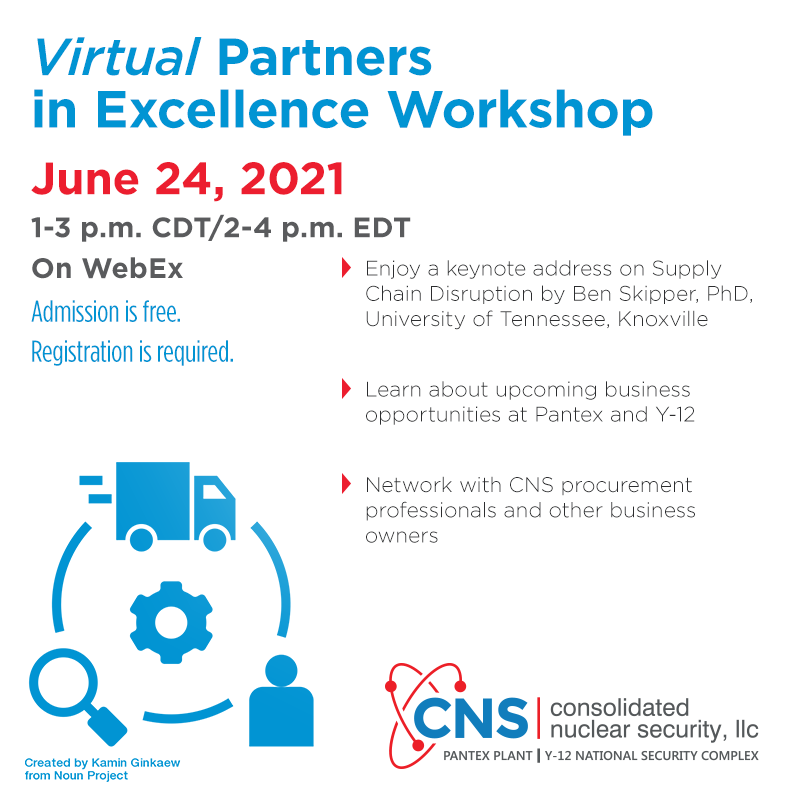 Please join Consolidated Nuclear Security, LLC procurement leaders from Pantex and Y-12 National Security Complex for a Virtual Partners in Excellence Workshop on June 24, 2021, from 1:00 – 3:00 p.m. CST / 2:00 – 4:00 p.m. EST. Attendance is free, but registration is required.
CNS began the Partners in Excellence event series in April 2018 because the government contract solicitation process can be a bit overwhelming for businesses, particularly for newcomers. Each year, CNS awards approximately $1 billion in subcontracts to businesses to help accomplish specialized tasks in support of its vital national security mission.
Registration Instructions:
Click on the link within this message to register so we have an accurate headcount. Save/bookmark this WebEx invitation email since you will access the meeting using the same link. Install WebEx on your device prior to the workshop meeting time, as some users report it can take 20-30 minutes (depending on your device). We invite you to log in up to 15 minutes before the workshop start time on the day of the event to test your connection.
Event Information:
If you have event questions, please contact Randy Crawford or Greta Ownby.
Next scheduled Partners in Excellence forum: June 24
Past CNS Partners in Excellence Forums
April 22, 2021
Presentation